arabic food recipes in english
---
recipe name : homemade meatballs soup recipe . add by : Angela . recipe date : 11/11/2014.
---
homemade meatballs soup recipe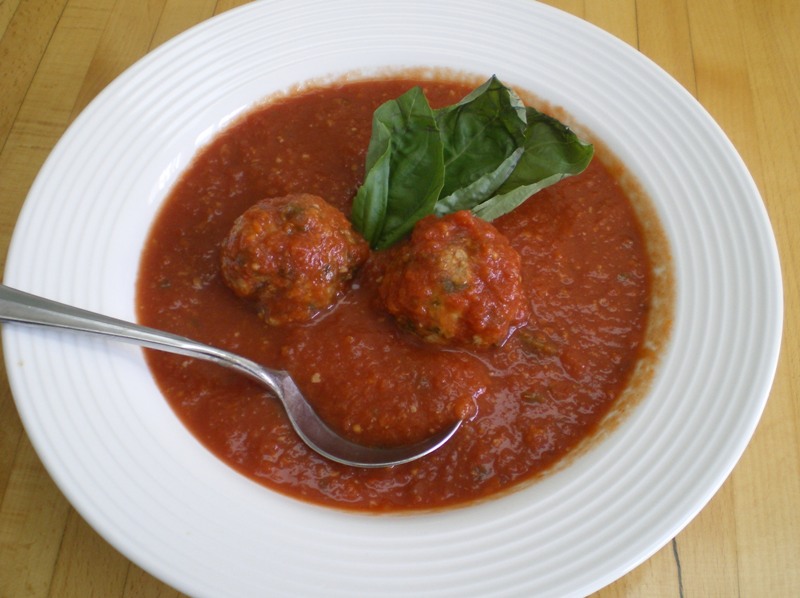 Ingredients:

For the meatballs:
1/2 kg ground beef or lamb
1/2 medium onion, finely chopped
1 Tbsp. parsley, finely chopped
1 clove garlic, minced
1/4 cup pickled lemon, finely chopped
1/2 Tbsp. allspice
1 tsp. salt
1/4 tsp. black pepper
For the Soup:
2 Tbsp. oil
1/2 medium onion
2 cloves garlic
6 Tbsp. tomato paste
8 cups stock (chicken or other meat)
1/2 tsp. paprika
1/4 tsp. red hot pepper
1/4 cup semolina flour
1/2 Tbsp. dried mint
Fresh mint for garnish (optional)



Method:

-Combine the meat, onion, garlic, parsley, and spices. Mix well and form into small balls the size of grapes. Place in a baking pan.
-Bake at 350˚F (180˚C) until browned, about 15 to 20 minutes. You can also pan-fry them.
-In a skillet, heat the oil and saute the onion and garlic until they are golden brown.
-Add the tomato paste and stock.
-Mix in the salt, paprika, and hot red pepper. Bring the mixture to a boil.
-Gradually add semolina all-purpose flour, stirring. Cook, stirring constantly, until well combined, about 5 minutes.
-Add the cooked meatballs and return to a boil, then remove from heat.
-Garnish with some dried or fresh mint, as desired.

- Moroccan and Tunisian cuisines are famous for using pickled lemons and olives. The pickles are not only served on the side, but also incorporated into the dishes.


---