recipe seafood cioppino
By: Fatimah
Recipe date: 14/11/2014
recipe seafood cioppino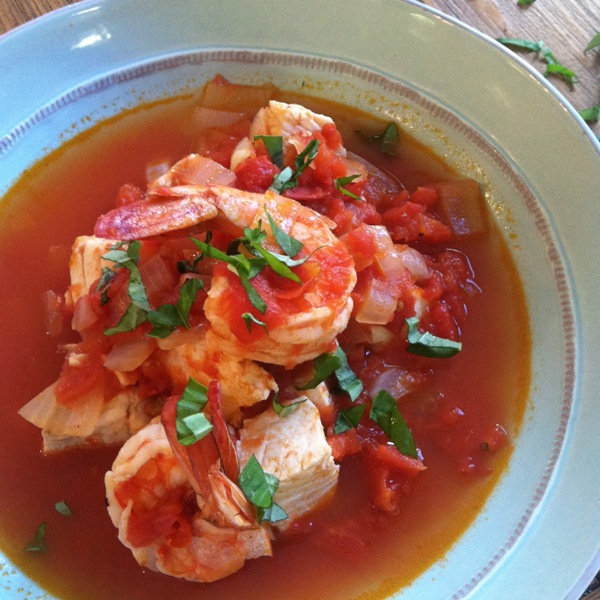 Ingredients

Seafood

3 pounds halibut, sea bass, or other firm white fish, cut into inch-long cubes
1 large (2 lb or more) cooked Dungeness crab (hard shell) or a cooked lobster
1 pound (or more) of large shrimp
2 pounds little neck clams, mussels, or oysters or all three

Sauce

1/2 cup olive oil
1 1/2 cups chopped onion (1 large onion)
1 cup chopped green bell pepper (1 large green bell pepper)
3 coves garlic, minced
1 teaspoon salt
1 28 ounce can tomatoes
Broth from the mollusks
2 cups red wine
2 cups tomato juice
2 cups fish or shellfish stock
An herb bouquet of bay leaf, parsley, and basil wrapped in a layer of cheesecloth and secured with kitchen string
Salt and pepper to taste
1/2 cup minced parsley for garnish


Optional seasonings: a dash of Tabasco sauce and or Worcestershire sauce
Method

1 Steam mollusks (clams, mussels, oysters) in a small amount of water (about a cup) until they just open. Set aside. Strain and reserve the cooking broth.

2 If using crab, removed the crab legs from the body and use a nut cracker to crack the shells so that the meat can be easily removed once it is served (leave the meat in the shell). Break the body in half, and then cut each half again into either halves or thirds. Keep the top shell of the crab for making stock.

If you are using lobster, cut the tail in pieces and reserve the body and legs for making stock.

Note you can use prepared fish or shellfish stock, or you can make your own. If you are not making your own stock, you can discard the crab top shell or lobster body. If prepared shellfish stock is not available, I would combine some prepared fish stock (available at many markets, including Trader Joe's) with clam juice.

3 Split the shrimp shells down the back and remove the black vein. (See how to peel and devein shrimp.) I found the easiest way to do this, without removing the shell, is to lay the shrimp on its side and insert a small knife into the large end of the shrimp, with the blade pointing outward from the back (away from the shrimp and your hands). Once you have split the shrimp shells, you can turn the knife toward the shrimp, and cut in a little to find the black vein. Pull out the vein as much as you can. You can probably also use a pair of kitchen scissors to cut the backs of the shrimp.

Alternatively, you can shell the shrimps and devein them. Shell-on imparts more flavor; shell-off is easier to eat.

4 In a deep 8-quart covered pot, sauté onions and green pepper on medium heat in olive oil until soft. Add the garlic, sauté 1 minute more. Add tomatoes, broth from the mollusks, red wine, tomato juice, fish or shellfish stock, the herb bouquet, and salt and pepper to taste. Bring to a simmer and cook, uncovered, for 20 minutes. Remove herb bouquet. Taste and correct seasoning.

5 Add the fish and cook, covered, until the fish is just cooked through, about 3 to 5 minutes. Add the steamed mollusks, crabmeat, and shrimp. Heat just until shrimp are cooked (just 2-3 minutes, until they are bright pink). Do not overcook.

6 Serve in large bowls, shells included. Sprinkle with minced parsley. Serve with crusty French or Italian bread and a robust red wine. Have plenty of napkins available, a few extra bowls for the shells, and nut crackers and tiny forks for the crab.

Serves 8.