fattoush salad lebanese recipe
By: lebanese women
Recipe date: 06/04/2016
fattoush salad lebanese recipe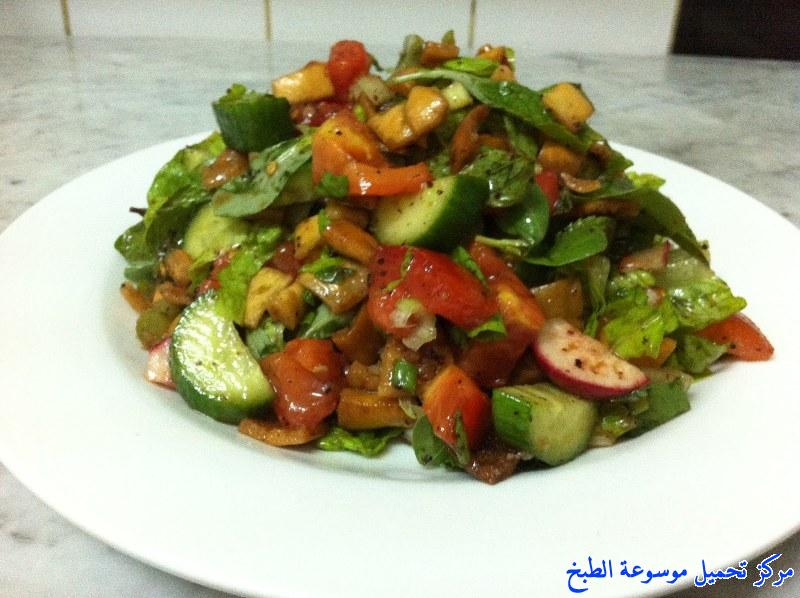 how to make fattoush salad lebanese


fattoush salad ingredients :

3 pita rounds, torn into pieces
oil for frying
2 cups torn romaine lettuce
2 tomatoes, chopped
2 small cucumbers, peeled and diced
1 green bell pepper, chopped
3 green onions, minced
15 fresh mint leaves, chopped
1/4 cup chopped fresh parsley
1 teaspoon cilantro

Dressing:
1/4 cup lemon juice
2 teaspoons white wine vinegar
1 pinch salt
1/2 teaspoon lemon pepper
1/2 teaspoon dried onion flakes
1 pinch celery salt
1 pinch garlic powder
1/4 cup olive oil


fattoush method :

Heat oil in a large skillet over medium-high heat. Place pita pieces into the skillet without crowding. Fry in batches until browned; then remove to paper towels.

Place romaine lettuce, tomatoes, cucumbers, bell pepper, green onions, mint leaves, parsley, and cilantro into a large bowl.

Pour lemon juice and white wine vinegar into a small bowl. Season with salt, lemon pepper, onion flakes, celery salt, and garlic powder. Stir in olive oil.

Gently toss salad with fried pita pieces and dressing. Adjust seasonings to taste, and serve.