home made chicken and wild rice soup recipe
By: Abbey
Recipe date: 11/11/2014
home made chicken and wild rice soup recipe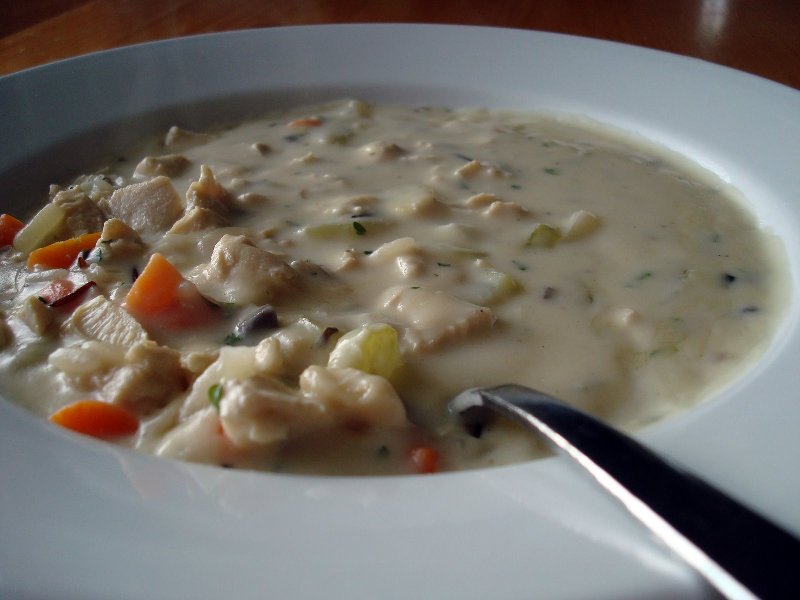 Ingredients:

1 tablespoon vegetable oil

3 pounds chicken pieces

2 whole carrots

2 stalks celery, cut in half

1 large whole onion, peeled

salt and pepper, to taste

5 cloves garlic, crushed

1 (6 ounce) package long grain and wild rice mix (such as Uncle Ben's ® Original)

3 carrots, chopped

1 1/2 tablespoons lemon juice

chopped fresh parsley


Method:



Heat oil in a large pot over medium heat; add the chicken, whole carrots, celery, and whole onion. Cook until the chicken is browned, about 10 minutes. Season with salt and pepper. Stir in the crushed garlic cloves, and cook until soft, about 1 to 2 minutes. Pour enough water into the pot to cover the chicken and vegetables. Simmer for 2 to 3 hours. Add water as necessary.

While the soup is simmering, cook the rice according to package instructions. Refrigerate when done.

Removed cooked chicken from the pot to cool. Strain the broth, discarding cooked vegetables. Shred chicken and return to the pot along with the broth; stir in chopped carrots and lemon juice. Bring soup to a simmer, and cook until the carrots are soft, about 10 minutes. Stir in the cooked rice and chopped parsley.

Heat until hot, about 5 minutes. Season with additional salt and pepper, if needed.