homemade italian minestrone soup recipe
By: Laura
Recipe date: 11/11/2014
homemade italian minestrone soup recipe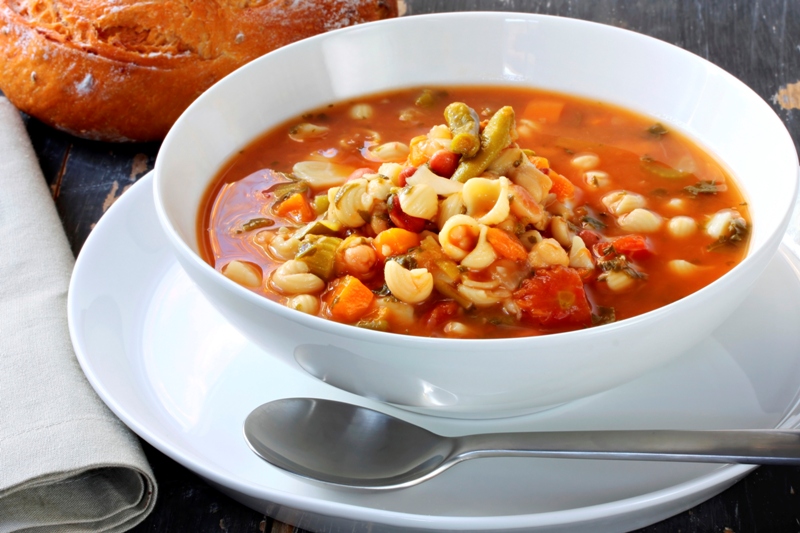 Ingredients:

3 tablespoons olive oil
1/2 cup onion, chopped
2 celerystems, chopped
1/4 cup leeks, chopped
1/2 cup carrot, chopped
6 garlic cloves, chopped
1/2 cups cabbage, shredded
1/2 cup potato, diced
4 medium tomatoes, peeled, diced
1/2 cup zucchini, diced
1 cup chickpeas or white beans (canned and drained)
8 cups stock
Salt and pepper
1/4 teaspoon nutmeg, ground
Shredded parmesan cheese for garnish
2 tablespoons parsley, chopped


Method:

- Heat oil in a pan over medium-high heat, add onions, celery, leeks and stir for few minutes.
- Add carrots, garlic and stir for 5 minutes.
- Add remaining vegetables, stir in chickpeas, pour stock and boil.
- Reduce heat and simmer for about 15 to 20 minutes.
- Season soup with salt and pepper, cooked rice or vermicelli can be added in this step.
- Garnish Minestrone soup with Parmesan cheese, chopped parsley or any fresh herbs (basil or oregano).