homemade roasted tomato pepper soup recipe
By: afnan
Recipe date: 11/11/2014
homemade roasted tomato pepper soup recipe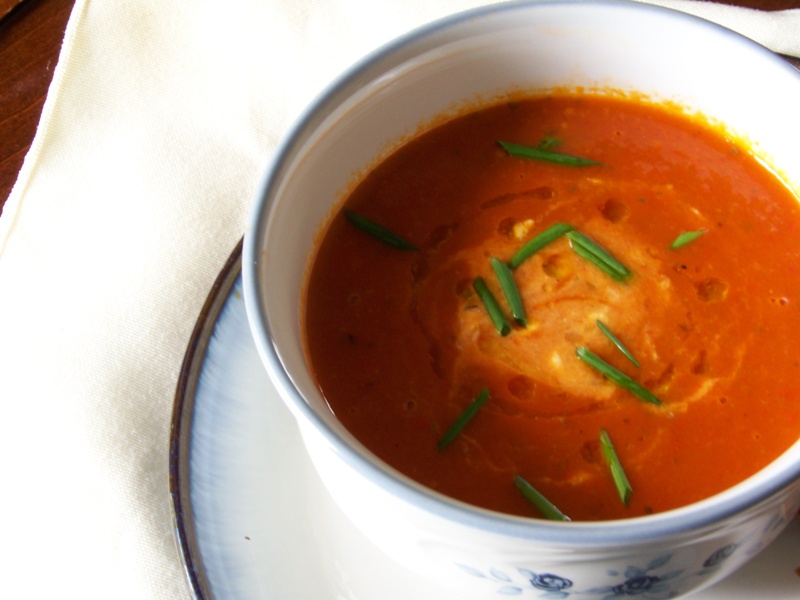 Ingredients:

For the Soup
6 tomatoes, medium
2 red peppers, medium
2 tablespoon sea salt
1/2 cup olive oil
4 basil leaves
4 cup tomato juice
1 tablespoon sugar
Salt and pepper

For the Croutons
2 tablespoon labneh
1 teaspoon dill, finely chopped
1 teaspoon parsley, finely chopped
1/2 tablespoon red pepper, finely chopped
Croutons


Method:

For the Soup
- Preheat oven to 180 Degrees Celsius.
- Halve tomatoes and pepper, arrange on a baking tray, sprinkle with sea salt and olive oil, arrange basil on top.
- Roast in the oven for 20 minutes.
- Peel and deseed peppers.
- Heat tomato juice in a large pot over medium heat, stir in tomatoes and peppers.
- Add sugar, season with salt and pepper. Bring to a boil
- Remove from heat and let cool.
- Puree mixture in a blender in batches or using the hand blender until smooth.

For the Croutons
- In a small bowl, mix labneh, dill, parsley and red pepper with croutons until well combined.
- Reheat tomato soup over medium heat.
- Serve warm Roasted Tomato Pepper soup with flavored croutons.