middle eastern seafood soup recipe
By: umm ali
Recipe date: 12/11/2014
middle eastern seafood soup recipe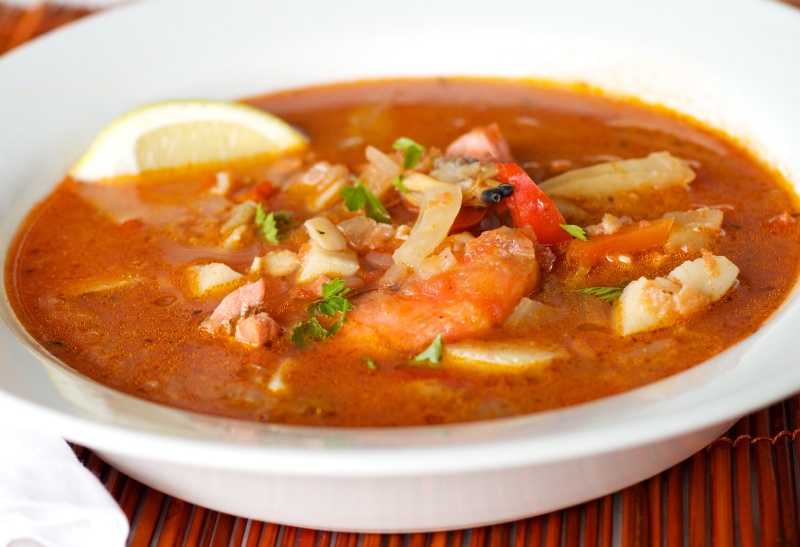 Ingredients:

4 tbsp olive oil
1/2 kilo shrimp, cut medium size
1/2 kilo Calamari (squid), cut medium size
1/2 kg fish fillets with skin, cubed
1 Onion, minced
1 cup celery, diced
2 Garlic cloves, minced
3 tbsp flour
2 Cups tomatoes, diced (with liquid)
6 Cups chicken or fish broth
1 cup fresh parsley, minced
1 Cup green coriander, chopped
3 Bay leaves
Salt and pepper Basil leaves for decoration



Method:

-Heat half the amount of oil in a pot over medium heat.
-Add shrimp and calamari, stir until halfway cooked, then remove and set aside.
-Put the fish cubes in the same pot and stir until halfway cooked, remove and set aside.
-Add the rest of the oil in the same pot, add onion stir for 3 minutes, and add celery, garlic.
-Sprinkle flour, stirring continuously until it absorbs all the liquid, add the tomato and broth.
-Add parsley, coriander, bay leaves, and season with salt and pepper, leave until the mixture begins to boil, reduce heat and leave the mixture for 20 minutes -Add the seafood, leave over medium heat for 10 minutes until fully cooked.
-Decorate with fresh basil leaves when serving.