tomato tortilla soup recipe
By: Yaasana
Recipe date: 14/11/2014
tomato tortilla soup recipe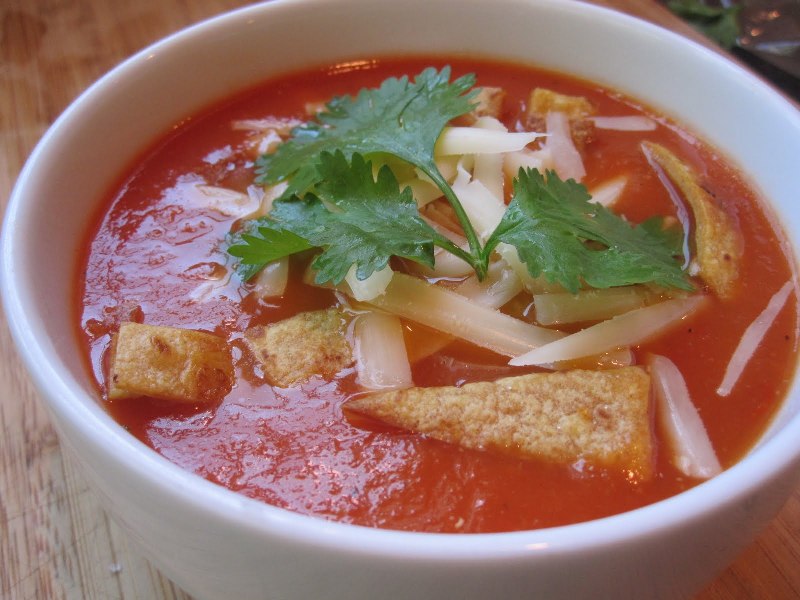 Ingredients

* 2 (6-inch) corn tortillas
* 1 tablespoon plus 1 teaspoon canola oil
* 1/4 teaspoon salt
* 1 small onion, chopped (about 1 cup)
* 3 cloves garlic, minced (about 1 tablespoon)
* 1 small jalapeno pepper, seeded and finely chopped
* 1 teaspoon ground cumin
* 3/4 teaspoon dried oregano
* 4 cups low-sodium chicken broth
* 2 (14.5-ounce) cans no salt added diced tomatoes. with juice
* 1/4 cup fresh lime juice
* 1/4 cup reduced-fat sour cream
* 2 tablespoons chopped fresh cilantro leaves

Directions

Preheat the oven to 375 degrees F.

Brush both sides of each tortilla with oil, using 1 tablespoon of the oil. Cut the tortillas in half, then cut each half into 1/4-inch wide strips. Arrange the strips on a baking sheet, sprinkle with the salt, and bake until crisp and golden, about 12 minutes. Remove from oven and set aside.

Heat the remaining 1 teaspoons of oil in a large heavy skillet over medium heat. Add the onion and cook for 5 minutes, stirring occasionally, until onion is soft and translucent. Add the garlic, jalapeno, cumin, and oregano and cook for 1 minute more. Add the broth and tomatoes, bring to a boil, then reduce the heat to low and simmer for about 10 minutes. Stir in lime juice.

Remove the pan from the heat and puree with an immersion blender or in 2 batches in a regular blender until the soup lightens in color but chunks of tomato remain, about 30 seconds. Serve the soup topped with the tortilla strips, a dollop of sour cream, and a sprinkle of cilantro.