namoura basbousa recipe
By: umm ali
Recipe date: 08/12/2014
how to make easy namoura basbousa recipe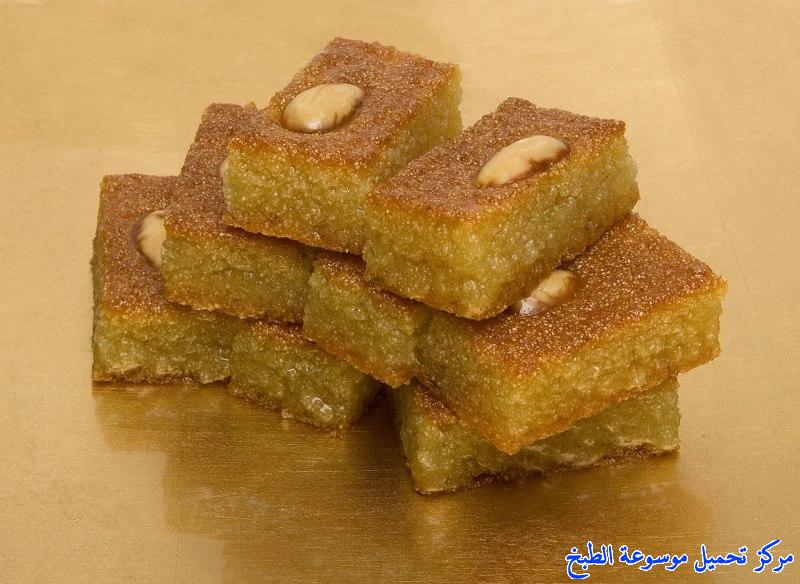 Ingredients :

1 tablespoon tahini (sesame seed paste)

2 cups dry farina cereal

1 1/2 cups white sugar

2 teaspoons baking powder

1 cup plain yogurt

1 tablespoon butter, softened

16 blanched almond halves

2 cups white sugar

2 cups water

1 teaspoon lemon juice

1 tablespoon butter

1 teaspoon orange flower water (optional)


=============

Method :


Line a 9x13-inch glass baking dish with aluminum foil and generously butter the foil. Spread the tahini evenly over the bottom of the prepared pan in a thin layer.

Mix together farina cereal with 1 1/2 cup of sugar and baking powder in a bowl. Mix in the yogurt and 1 tablespoon of softened butter gently with your hands until the dough is smooth. Spread dough out into the prepared baking dish. Pat the surface smooth. Cover the dish with foil, and allow to stand at room temperature for 2 hours. With a sharp knife, cut the dough into 16 squares; push an almond half gently into the top of each square.

Preheat oven to 400 degrees F (200 degrees C).

Bake in the preheated oven until the dessert is set and the top is lightly golden brown, about 30 minutes.

While the dessert is baking, make the syrup. Place 2 cups of sugar into a saucepan with the water, and bring to a boil over medium heat, stirring constantly to dissolve sugar. Stir in the lemon juice, and boil the syrup for 5 minutes; stir in butter and orange flower water until combined. Pour the hot syrup over the dessert as soon as it comes out of the oven. Let cool for 1 to 2 hours to let the syrup absorb before serving.