how to make arabic cookies recipe
By: afnan
Recipe date: 02/03/2015
how to make arabic cookies recipe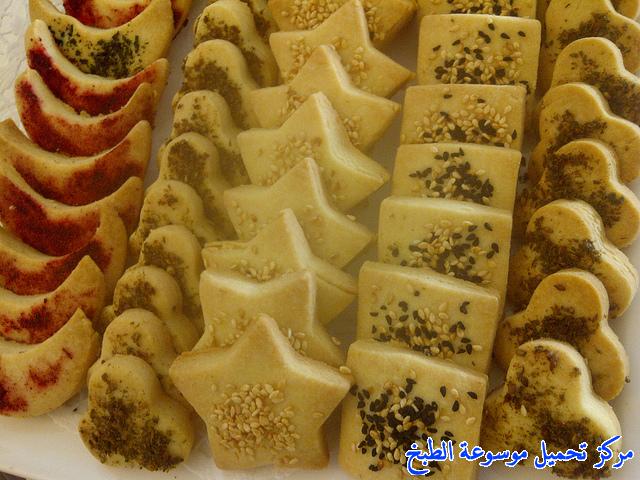 Ingredients :

1 cup rahash ( halawah tehiniyah )
½ cup sugar
1 egg
¼ teaspoon salt
1 ¼ cups all purpose flour
¾ teaspoon baking soda
½ teaspoon baking powder
1 teaspoon cardamom powder

For Forming:
2 tablespoons debs ( date syrup )
2 tablespoons sugar
1-2 tablespoons water, if necessary

Decoration:
¼ cup chopped pistachios
¼ cup sesame seeds
Strawberry or Apricot Jam

(Serves 6- 8 persons)





Method :

1- Cream butter, sugar, rahash, eggs and cardamom.

2. Add the rest of the listed ingredients until cardamom powder and mix well.

3- Cover and refrigerate for one hour.

4- Heat oven to (190°C or 375°F).

5- Form dough into small balls (2 cm in diameter). Arrange in a lightly greased tray allowing 5 cm between the balls.

6- Press the top of each ball with a fork dipped in flour.

7- Decorate with pistachios and sesame seeds.

8- Bake until set but still soft and its bottom is golden.

9- Using a metal spatula, transfer biscuits to a wire rack, allow to cool, serve or store in an airtight container.

Variation:

Rahash Lovers Biscuit:
- Stick each biscuit with the other using date syrup or jam. Roll the side in roasted sesame seeds or chopped nuts and serve.

Rahash Biscuit with Jam:
- Reduce sugar to 1/3 cup. In step 5, roll each ball in chopped pistachios. Press thumb or a small spoon in the centre. Bake and cool, then fill the centre with strawberry or apricot jam. If biscuits are to be kept, store without filling with jam. When ready to serve fill and serve.

Marble Rahash Biscuit:

- After step 3, divide the dough into 2 equal portions. Add 2 tablespoons of date syrup or 1 tablespoon cocoa powder plus 1 tablespoon of icing sugar, 1-2 tablespoons water to one portion and work gently.

- Add 2 tablespoons icing sugar and 1-2 tablespoons water to the second portion and work gently. Cover each portion and refrigerate for 1 hour.

- Butter palms, take a small piece of each portion, form each into a small rope. Twist the two ropes forming a spiral, arrange in the tray and bake. Alternatively, roll between palms a small piece of each portion forming a small ball with a marble effect. Decorate with sesame seeds, then bake as mentioned above.