khabeesa uae dessert recipe
By: emirati cuisine recipes
Recipe date: 23/07/2023
haw to make khabeesa uae dessert recipe traditional food in uae with images


khabeesa or Khabisa or khabisah famous emirati dessert

khabeesa description

Khabees (Arabic: الخبيص sometimes pronounce as Khabeesa) is a traditional sweet dish from Arab States of the Persian Gulf, and common in Qatar, Bahrain, Kuwait, Oman, Saudi Arabia and the United Arab Emirates. It is made of flour and oil and is commonly served as a traditional dish for breakfast, especially during Eid days.

Khabees is one of the oldest traditional foods in the United Arab Emirates. Comprised of toasted flour, honey or sugar, and spices, this is a classic dessert favourite.

The preparation of Khabees begins with toasting the flour until it is golden brown and gives off a rich aroma. In a separate pot, water and sugar (or honey) are heated until the mixture boils. About half of the sweetened water is then poured into another container and set aside. The toasted flour is added to the remaining water mixture and stirred until all the liquid is absorbed.

While still on the heat, ghee, cardamom, saffron and rose water are added, along with some of the reserved water mixture. More reserved water is stirred into the mixture, a little at a time, until all ingredients are well combined and a thick porridge-like consistency is obtained. Finally, for added flavour, grated coconut, raisins, pistachios and almonds can be stirred into the mixture.

Original Recipe for khabeesa uae dessert

khabeesa ingredients :


. 2 cups of whole wheat flour
. 4 teaspoons rose water
. 1 teaspoon saffron
. 1 1/2 cups sugar
. 1/2 cup ghee/butter
. 2 teaspoons cardamom
. 2 cups wate
How make khabeesa :
. Put the flour in a flat pan and brown it on
medium heat without the oil.
. In a separate pan, put water, rose water, sugar
and saffron.
. Cook on high heat till it boils.
. Add the browned flour and mix well.
. Now add the ghee/butter , cardamom and mix
well.
. Let the mixture thicken until it gains a sticky
consistency.
. Remove from heat and serve.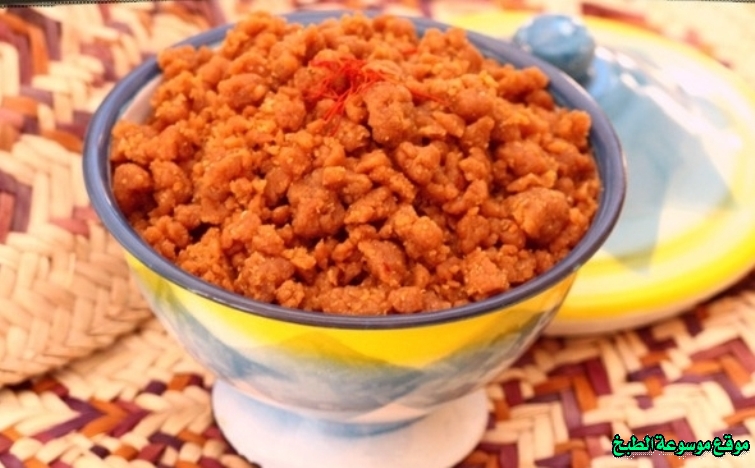 Healthy Recipe for khabeesa uae dessert

khabeesa ingredients :

. 2 cups of whole wheat flour
. 4 teaspoons rose water
. 1 teaspoon saffron
. 1 1/2 cups Dates without seed
. 3 tablespoons vegetable oil / ghee
. 2 teaspoons cardamom
. 2 cups water

How make khabeesa :

. Use pitted dates and chop them.
. Put the flour in a flat pan and brown it on
medium heat without the oil.
. In a separate pan, put water, rose water, dates
and saffron.
. Cook on high heat till it boils.
. Add the browned flour and mix well.
. Now add the oil or ghee, cardamom and mix
well.
. Let the mixture thicken until it gains a sticky
consistency.
. Remove from heat, garnish with almonds, if
desired and serve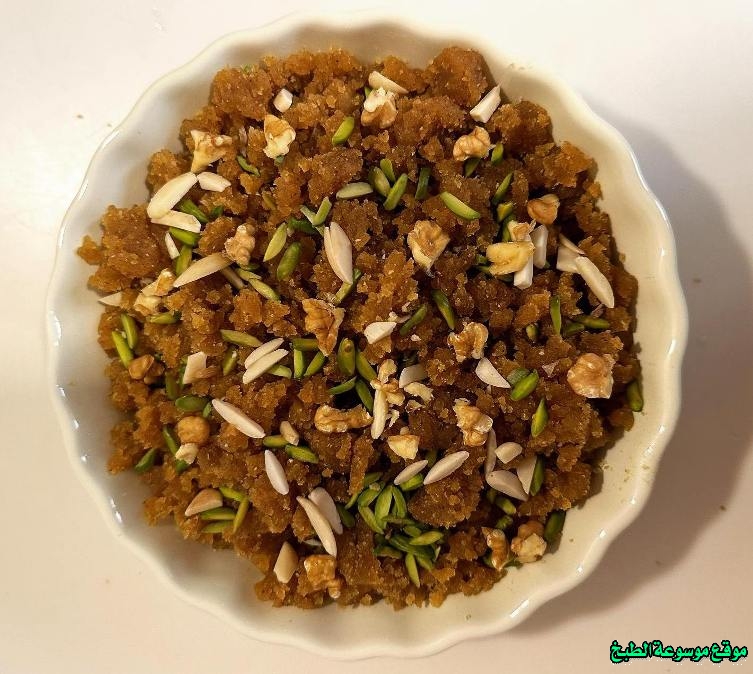 Bon appetit