stuffed pumpkin with meat and rice recipe
By: Maryam Mohammed
Recipe date: 26/07/2023
haw to make stuffed pumpkin with meat and rice recipe in english at home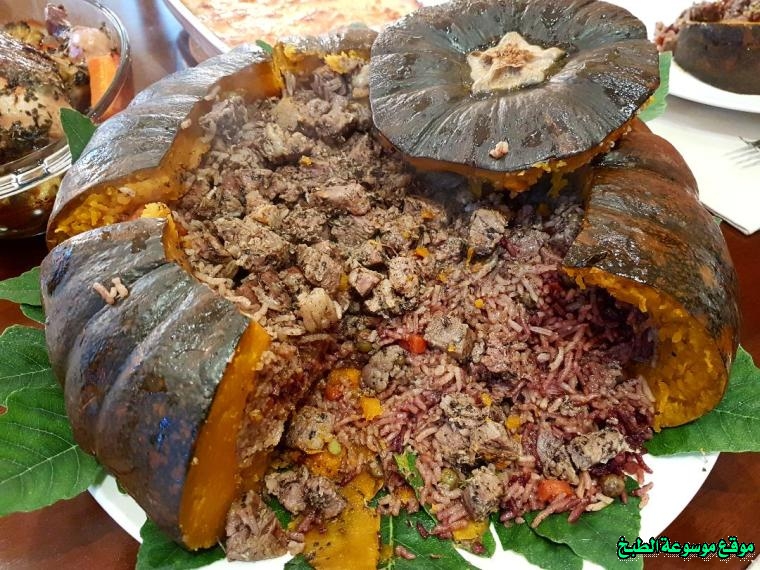 Masha Allah what a beautiful presentation this was. A Cinderella pumpkin, hollowed and stuffed, baked and served whole was the talk of the gathering.
Looking way more intimidating than it is, once you've done it once you will find yourself getting creative and switching up the flavors.
I got a 4.5 kilo pumpkin, but truth be told the same concept can be applied to individual-sized mini pumpkins or giant pumpkins alike.
I used a couple spoons from my home made mulberry molasses to yield an interesting tang and color, but that is totally optional.
stuffed pumpkin with meat and rice ingredients :
1 (4.5kg) pumpkin
2 cloves garlic
2 Tbsp olive oil
For the rice:
2 cups rice
1 onion, diced
1 carrot, diced
1 cup peas
3 cubes maggi
1 tsp allspice
1/4 tsp cinnamon
1/4 tsp turmeric
1 tsp seven spice
2 Tbsp mulberry molasses (optional)
For the meat:
700g steak, cubed
1/2 tsp dry thyme
1 tsp dry basil
s&p
2 cloves garlic, grated
How make stuffed pumpkin with meat and rice :
Carefully cut a cap into the pumpkin and remove all seeds and firer on the inside.
Rub the inside of the pumpkin with olive oil, grated garlic, salt and pepper.
Set aside.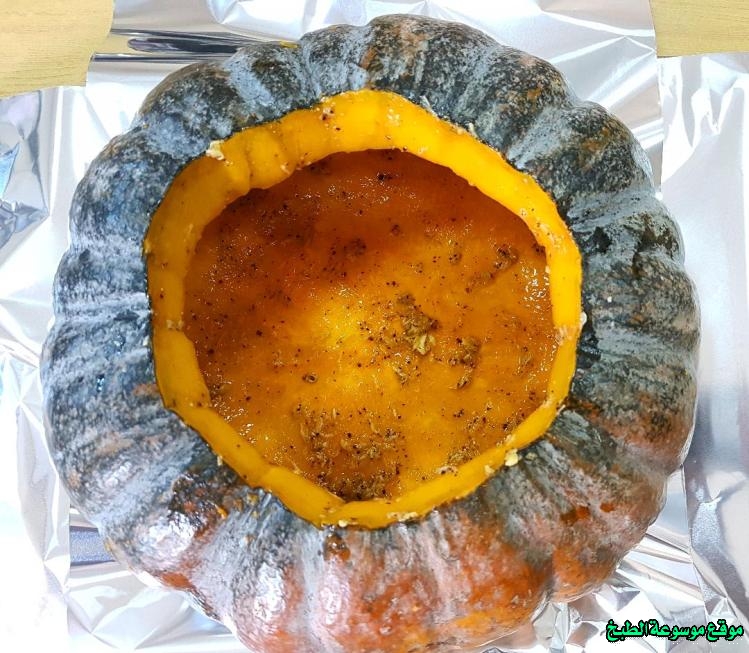 To make the rice
boil the rice like pasta in excess salted water for about 7 minutes until half-way cooked.
Drain and set aside.
In a pot, saute the onion, carrot, and peas in a bit of oil until soft.
Add the stock cubes and spices and cook a minute or two more.
Stir in the parboiled rice and the mulberry molasses if using.
Set aside.
To make the meat
sear the cubed steak in a bit of oil over high heat using a large pan.
When it starts to color, add the herbs, garlic, and seasoning.
Toss a bit longer to cook the garlic.
set aside.
To assemble
add the rice mixture into the pumpkin.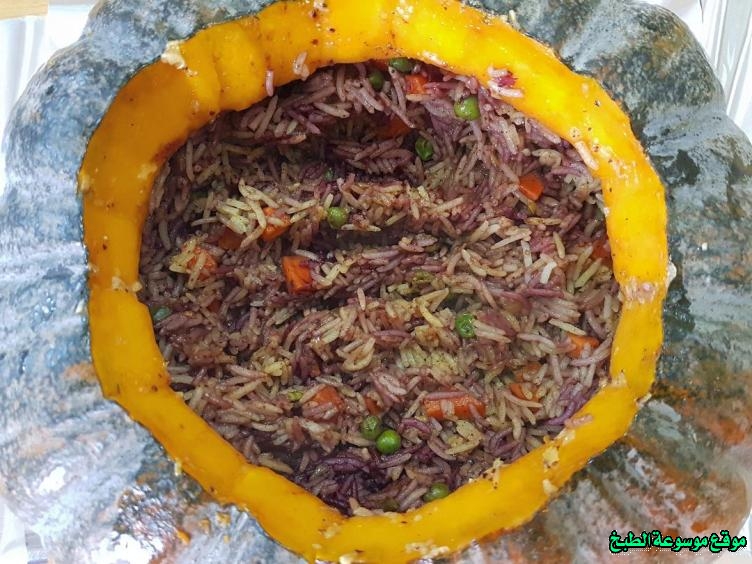 Top with the steak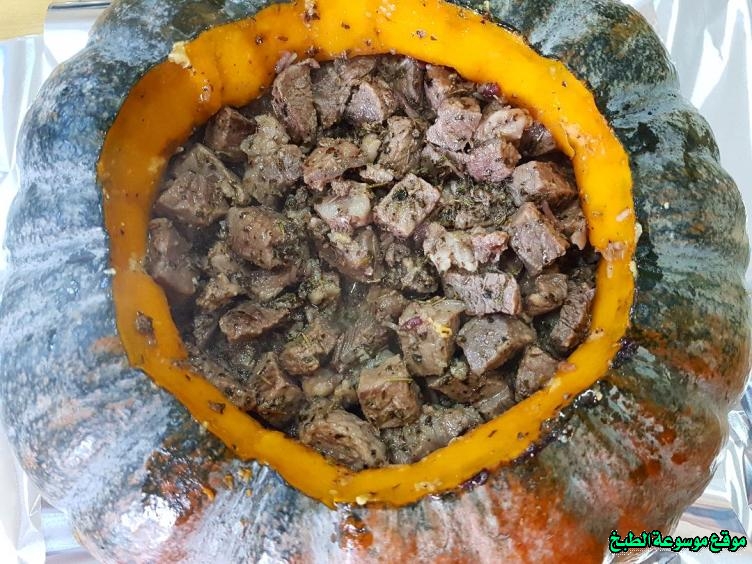 and cover the pumpkin with its cap.
Wrap the whole thing in a double layer of foil, place on a rimmed baking sheet.
Add a couple cups of water to the baking sheet and bake for 2 and a half hours in a preheated 400F oven.
Remove from the oven and let sit 15 minutes, still covered, at room temperature.
Carefully unwrap the pumpkin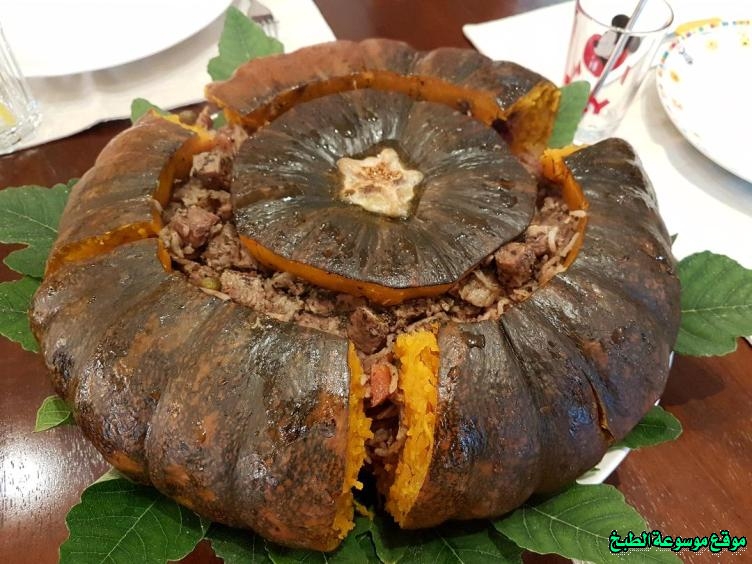 transfer to a serving dish and serve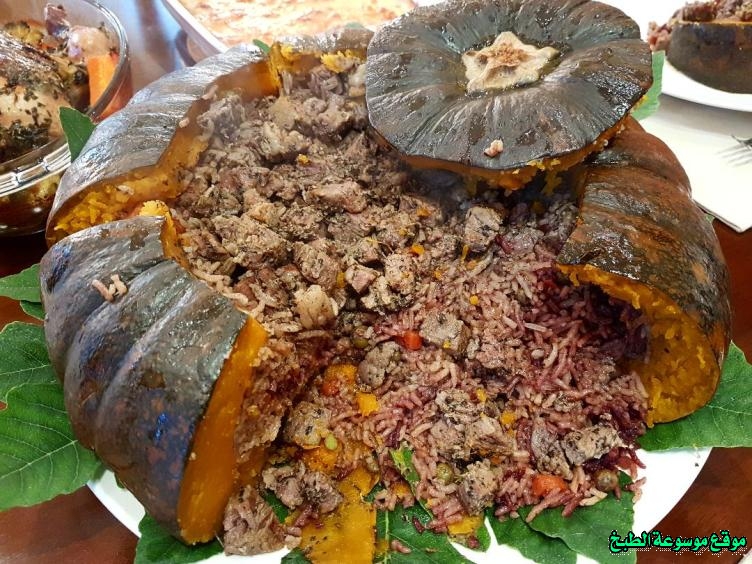 Bon appetit